Shannon Wright - Maps of Tacit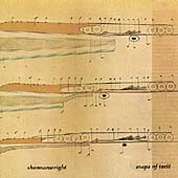 I was lucky to catch Shannon Wright (aka shannonwright) when she opened for Dirty Three here in Seattle a few months back. A girl and a guitar on stage, rarely even noticed. She played her sweet guitar, singing in a timid quiet voice. Like everyone else, I sat chatting with my friends...
...suddenly there is a drummer on stage (where the hell did he come from???) and then she screamed. YUM, this woman can scream! And I'm not talking that whiney typical scream; this is a pit-of-the-belly bellow.
She switched from guitar to keys, going from pretty melodies to banging with her fists and more of that fabulous yelling.
So, a few months later, I'm bored at work so I walk over and pick up her newest CD, and it all comes back. Subconscious reminiscent lyrics and that voice make for a really great album!

Angry, but intelligent.

I think my favorite on this album is track 5 "flask welder"

Added: Sunday, March 18, 2001
Reviewer: Ick!Girl
Score:






Related Link:
Listen to Samples
Hits: 3631
Language: eng